Alumni couple pledges $1 million to support UC Riverside's mission of improving health care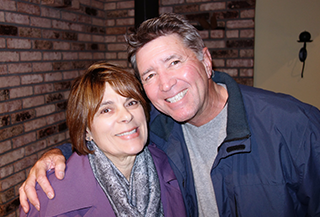 The Michael and Annette Scarpino Sechrest Endowed Scholarship Fund will benefit medical students who plan to practice in the region
From rock concerts at the foot of the bell tower to the camaraderie among classmates in a tightknit community, Mike and Annette Sechrest share many fond memories of their time at UC Riverside. Topping the list: the night they met—at a 1967 Valentine's Day dance at the cafeteria.
More than 50 years later, the couple, both retired educators, are giving back to UCR with a $1 million bequest to the School of Medicine Dean's Mission Award program. Their gift, "The Michael and Annette Scarpino-Sechrest Endowed Scholarship Fund," will support talented, financially deserving students who commit to practice medicine in Inland Southern California for several years after qualifying.
"I am incredibly thankful to Mike and Annette Sechrest for this generous donation to the UCR School of Medicine," said Deborah Deas, Vice Chancellor and Dean of the UCR School of Medicine. "Their gift speaks volumes about their commitment to education and their passion for supporting their community. As a result of their generosity, the School of Medicine can continue to support the dreams and ambitions of many deserving students willing to dedicate their careers in service to the Inland Empire."
Mike, a San Bernardino native, came to UCR in 1964, earning his bachelor's in English literature in 1968 and master's in American Literature in 1970. He encouraged Annette, then a student at Riverside Community College, to transfer to UCR where she received a bachelor's in English Literature in 1972.
When the couple moved to Tucson for Mike's job, Annette earned her teaching credential at the University of Arizona. Both enjoyed long careers, Mike with the Flowing Wells Unified School District followed by a professorship at the University of Arizona, and Annette with Flowing Wells and Tucson Unified Schools with a 13-year stint working for The American Federation of Teachers in between. The veteran teachers both credit UCR for their professional successes.
"When I came to UCR in 1964, there were only around 3,000 students which was fewer than in my high school in San Bernardino," Mike said. "UCR had a very pleasant feel, and we were a close group of students and professors."
Annette, who was born in New York, moved to California with her family as a young child. After attending a Catholic girl's school in Riverside, UCR opened her eyes to a world of career possibilities for women.
"The professors were so dedicated, and I was amazed by their knowledge and how well they communicated it to us," Annette said. "They taught us critical analysis and problem solving. Years later, when I was teaching myself, I realized I was mimicking them. That's when I knew the things I'd learned at UCR had really stuck."
While building a life in Arizona in an era before email and Facebook meant the Sechrests lost touch with campus happenings, the couple continued to feel a connection with their alma mater. A tangible reminder: a stray brick Mike snagged during the 1966 construction of the bell tower that has served as a bookend ever since.
Several years ago, during their estate planning process, Mike and Annette started to think about ways to give back to UCR. The Dean's Mission Award, which supports students who pledge to practice medicine in the Inland Empire, seemed like a good fit.
"We were pleased that UCR established a School of Medicine to serve communities in the Inland Empire and we wanted to contribute to something that would grow," Mike said.
In addition to their $1 million bequest, the Sechrests have begun making contributions to support current Mission Award recipients, a decision spurred by the economic hardships the coronavirus pandemic has caused many families.
The first recipient to benefit from their gift is Sarah Grace, who came to UCR from the Los Angeles city of Norwalk in 2011 as a biology major. After graduating Magna Cum Laude in 2015, Sarah was admitted to UCR's School of Medicine where she developed an interest in child and adolescent psychiatry; in particular the effects of substance abuse, homelessness, and other adverse events on children. She received her MD degree this year and is now completing a residency in psychiatry at UCR.
"My goal is to complete my psychiatry residency in 2024 and continue serving as a psychiatrist in the same community I first grew to love nine years ago when I first moved to Riverside," she said. "I am so grateful to the Sechrests for their generosity and wonderful gift they have provided me with."
For information about opportunities to give to UCR students, research, and programs in areas that are meaningful to you, please visit www.ucr.edu/giving-support. For more information on how a planned gift can help you leave your legacy and impact the future at UCR, visit planmygift.ucr.edu.